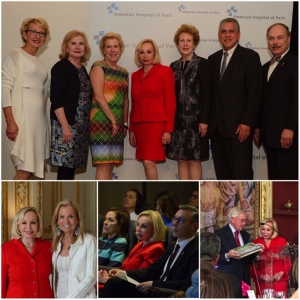 American Ambassador and American Hospital of Paris Honor Iris Cantor for Her Contributions to Healthcare for Women
Iris Cantor, Founder and President of the Iris & B. Gerald Cantor Foundation, is recognized around the world for essentially redefining clinical health care for women — the result of her determination to move the medical establishment toward compassionate healthcare customized to each gender. This past June Iris visited Paris as guest of honor of American Ambassador Jane Hartley, the American Embassy, and the American Hospital of Paris. She was honored for her years of dedication to women's health around the world. Most importantly, her visit commemorated the 20th anniversary of the Iris and B. Gerald Cantor Foundation's funding an endowed lecture series at the American Hospital of Paris making possible an annual lecture about the newest developments in women's healthcare.
Introducing her guest at a luncheon in her honor, Ambassador Hartley joked that if she listed all her "good friend Iris' awards and accomplishments, we would all be sitting at lunch for another 20 years."
Starting with the strong belief that sharing information leads to greater accomplishments, twenty years ago Iris and Bernie Cantor also sparked a relationship between New York-Presbyterian Hospital and the American Hospital of Paris. They encouraged periodic travel by doctors from both hospitals, visiting the other to share discoveries, information, and procedures.
Iris is still encouraging sharing. At the June events she introduced the doctors and friends of the American Hospital to her friends at the Musée Rodin, who led the Hospital team on an "amazing" tour through the newly restored mansion-museum. Reports are that the week in Paris was filled with laughter, great company, and wonderful food. Au revoir Paris, until next time!