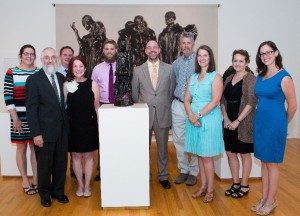 University of Richmond's Harnett Museum Hosts RODIN: THE HUMAN EXPERIENCE
On a lovely summer evening in late August a lively crowd of students, faculty, and townspeople turned out for the public opening of Rodin:  The Human Experience; Selections from the Iris and B. Gerald Cantor Collections at the Joel and Lila Harnett Museum of Art at the University of Richmond.  This exhibition of 32 bronzes from the Cantor Collections is on a three-year tour of American museums.
The Harnett's opening celebration began with a welcome by Elizabeth Schlatter (left), deputy director and curator of exhibitions at the Museums.  She shared insights gained about Rodin's sculpture from the process of installing the show, saying that "one thing I didn't quite expect until we started laying out the exhibition was the contrast between the dark and often warm colors of the bronzes and the creamy white paint of our walls and pedestals. This contrast creates a silhouette effect and manages to bring out the strong linear quality of these pieces."
Schlatter went on to say, "When we talk about sculpture we often first discuss 3-dimensional volume, as it's a distinctive quality from…paintings or prints. But when curators are figuring out where to put things throughout a gallery, we are often concerned with with sightlines, that is, when a visitor stands at one end of a gallery, how does everything look in front of you, is there something grand across the way that holds your attention as you turn a corner, is there a flow amongst the objects, are things in front of each other blocking your view or can you highlight adjacencies, having works that reveal similarities and differences merely by their placement next to each other.
"So when…figuring out the placement of these Rodin pieces, we'd put a work on a pedestal with a head…looking to the left, then Richard Waller (our executive director) and I would stand back, way back, and see how it looks. And it would look great. And then we'd ask our preparators to turn the sculpture maybe 20 degrees counter-clockwise, and it would look even better.  An example of this would be Rodin's "Monumental Head of Shade," which is this exquisite torqued head and neck, originally from "The Gates of Hell."  Each time we turned the head around we got an amazing new profile, …[one] you can really only appreciate when you see the work in person and in the gallery space, against this light background. And over and over again this would happen as we were laying out the show — beautiful and different contours would be revealed as we played around with the alignment of the works and each time I would think (and pardon my language), but Damn, Rodin was a genius."
Schlatter's inspiring introduction was followed by a piano concert by Joanne Kong and Paul Hanson (right) from the University of Richmond's Department of Music, who played — with explanations — music popular at Rodin's time.  This led into a lecture by Cantor Foundation Executive Director Judith Sobol, speaking about the formation of the renowned Cantor Collection and about Rodin's achievements in transforming sculpture from a traditional to a modern art form.  Sobol's talk was followed by a reception and viewing of the exhibition.
Speaking later, University of Richmond Museums Executive Director Richard Waller (left, with Cantor Foundation Executive Director Judith Sobol) cited the exceptional opportunity this show offers to college and university museums and galleries.  Waller noted the Rodin exhibition "is a perfect fit for our Harnett Museum of Art, it is both beautiful and a powerful experience for our visitors.  As a university museum in a liberal arts environment, our mission includes bringing outstanding art to our campus for the enrichment of our students, staff, and faculty, as well as for our greater community.  It has been wonderful and gratifying to see the overwhelming response from our audiences, as well as first-time visitors, to this remarkable exhibition from the Cantor Foundation.  I would like to thank and acknowledge the Cantor Foundation for providing this important opportunity to bring the experience of Rodin's creativity and genius to the University of Richmond."
University of Richmond Museums staff with Cantor Foundation Executive Director Judith Sobol, from left to right: Heather Campbell, Curator of Museums Programs; Richard Waller, Museums Executive Director; David Hershey, Assistant Collections Manager; Stephen Duggins, Museum Preparator; Matthew Houle, Curator of Museum Collections; Henley Guild, Museum Preparator; Katreena Clark, Museums Operations Manager;Elizabeth Schlatter, Deputy Director and Curator of Exhibitions; Martha Wright, Coordinator of Museum Visitor and Tour Services.  (All University of Richmond photos © Kim Schmidt.)