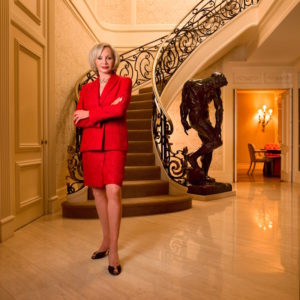 "Before I become personally involved in a project, I look for two essential qualities. First, the cause must be something I feel passionate about. And second, I want to make a real difference by supporting that cause – and by encouraging others to do the same."
Iris Cantor is indeed making the real difference she speaks of – to the lasting benefit of distinguished medical, educational and cultural institutions in the United States and around the world. As Chairman and President of the Iris & B. Gerald Cantor Foundation, Mrs. Cantor is dedicated to enhancing cultural life through the visual and performing arts, and to advancing knowledge to address the foremost medical challenges confronting humankind.
A role model for women in the realms of business and philanthropy, Mrs. Cantor is widely known for her commitment, tenacity and effective leadership – and, above all, for leaving her mark on issues of vital importance to our society.
An Extraordinary Partnership
Iris Cantor was born in Brooklyn, New York. As a child she often visited the Brooklyn Museum, where she and her sisters explored the galleries and where her love of the arts took root. After completing her education, she was drawn to the excitement of the financial world – then an avenue few women pursued – and joined a brokerage firm on Wall Street. It was through her professional activities that she met her future husband, B. Gerald Cantor (1916-1996).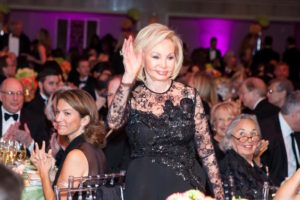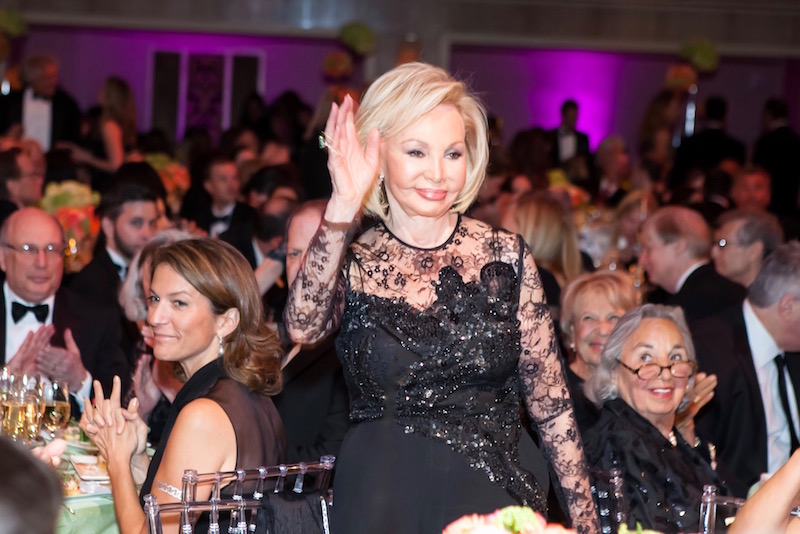 The pairing of Iris and Bernie Cantor had far-reaching repercussions as the couple pursued their mutual interests in business, fine art and philanthropy. Mrs. Cantor served as Vice Chairman of Cantor Fitzgerald Inc. (the important bond-trading firm founded by her husband) and also joined her husband in his activities as the preeminent private collector of works by and about Auguste Rodin.  She eagerly shared his admiration for Rodin's powerful, evocative sculptures. In 1978 the couple established the Iris & B. Gerald Cantor Foundation.
Committed to sharing the treasures in their art collection with the broader public, the Cantors collaborated in organizing exhibitions and in making loans and gifts of important artworks to universities and museums around the world. Often there was a personal component to their philanthropy; beneficiaries included The Metropolitan Museum of Art, where Bernie Cantor had first encountered a Rodin sculpture; Stanford University, where he forged a close bond with leading Rodin scholar Albert Elsen; and the Brooklyn Museum, where Iris Cantor had experienced, in her husband's words, "her first joys of aesthetic discovery."
The couple's generosity enabled a number of museums to expand or improve their gallery and exhibition spaces. In addition, the Cantors placed special emphasis on funding arts research and publications.
Iris and Bernie Cantor also joined in support of medical causes. Together they funded cutting-edge research on kidney disease, diabetes and diseases of the eye, and they established a number of groundbreaking programs and facilities devoted to women's health – a particular interest of Mrs. Cantor's. Since assuming leadership of the Cantor Foundation in 1996, Mrs. Cantor has strengthened its commitment to medical research and healthcare.
The Art of Giving
Iris Cantor is not only the guardian of the Cantor legacy in the arts, but also a significant contributor to it, reflecting her deep personal commitment to artistic and cultural causes.
When the Cantors commissioned a new bronze cast of Rodin's monumental work The Gates of Hell, Mrs. Cantor co-produced a documentary film to chronicle the painstaking four-year-long process that utilized the lost wax method favored by Rodin. The resulting 53-minute film, Rodin: The Gates of Hell, was broadcast on PBS stations and garnered nine awards. These included the CINE (Council on International Nontheatrical Events) Golden Eagle Award (1982); Best of Show Award and CINDY Gold Award for Best Documentary over 30 Minutes from Information Film Producers of America, Inc. (1982); the President's CHRS Award at the Columbus International Film Festival (1982); the Blue Ribbon at the American Film Festival, New York (1983); and a Golden Gate Award at the San Francisco International Film Festival (1983).
Between 1994 and 2000, both Mrs. Cantor's passion for sculpture and her quest to share art with the public led to an unprecedented series of exhibitions in the First Ladies' Garden at the White House. Sponsored by the Cantor Foundation and organized under the auspices of the Association of Art Museum Directors, the exhibitions featured 20th-century American sculpture from museums in different regions of the United States.
In 1998 an exhibition of monumental Rodins owned by both the Cantor family and the Foundation attracted significant public attention. Rodin at Rockefeller Center was organized by the Cantor Foundation in collaboration with New York's Public Art Fund. Approximately 2 million visitors viewed the eight large bronzes on display in Rockefeller Center's Channel Gardens. The exhibition also attracted international media coverage, including interviews of Mrs. Cantor on the Today show and Japanese television.
Mrs. Cantor also supports programs and activities in the performing arts, including film and theater projects. For example, a major gift from the Cantor Foundation helped to transform a vintage movie theater into a state-of-the-art screening center – the Iris and B. Gerald Cantor Film Center – for New York University's Tisch School of the Arts. At Mrs. Cantor's request, the restaurant in the complex is named Faye's Café in honor of her late mother, who loved coffee shops and chatting with students.
In addition to serving on the Dean's Committee at the Tisch School, Mrs. Cantor is a member of the board of Exploring the Arts, Inc., a private organization founded by Tony Bennett to transform young people's lives through arts education. In 1991 she was appointed to the steering committee of the National Actors Theatre, a classical repertory theater founded by Tony Randall. She has served as a trustee of several major arts institutions, including The Metropolitan Museum of Art, the Los Angeles County Museum of Art, the Brooklyn Museum of Art and Otis College of Art and Design. At the Los Angeles Music Center, she has been a Grand Patron and a member of the Blue Ribbon Board. In addition, she has been a member of The UCLA Foundation Board of Councillors.
A Voice for Healthcare
Iris Cantor is passionate about improving healthcare – at first particularly for women – and furthering medical research that will cure disease and extend lives. Thus the guiding vision for the Cantor Foundation extends to the realms of biomedical research and comprehensive clinical healthcare.
After the death of one of her sisters from breast cancer, Mrs. Cantor committed herself to improving the medical care options available to women, including the potentially lifesaving technology of mammography. She established the Iris Cantor Breast Imaging Center at UCLA in 1986, saying "early detection is one of the best weapons we have in the fight against breast cancer." The Center was among the first to combine state-of-the-art technology with a caring, feminine ambience to help minimize the trepidation many women feel about breast cancer screening. A benefit luncheon in 1993 raised more than $460,000 for the Center's programs that reached out to underserved women in the Los Angeles community. Conceived and hosted by Mrs. Cantor, the event featured then-First Lady Hillary Rodham Clinton as keynote speaker.
"Every woman in America, and indeed the world, owes this center a debt of gratitude, because the mammography that she receives will be better because of what the Iris Cantor Center has been able to do. " –Hillary Rodham Clinton
Also at UCLA, Mrs. Cantor established a Women's Health Center that pioneered a holistic approach that combined diagnosis, treatment and patient education in one place, in an environment where women could feel comfortable and confident. The success of this "one-stop-shopping" concept inspired the Iris Cantor Women's Health Center at New York-Presbyterian Hospital/Weill Cornell Medical Center, which opened in 2002. One of the world's most comprehensive health centers targeted to women, it offers access to a full range of services from primary caregivers and specialists, with an emphasis on preventive medicine, nutrition, breast cancer, osteoporosis, menopause and infectious disease.
Following and because of the success of the Women's Health Center, Mrs. Cantor provided funding for the Iris Cantor Men's Health Center at NewYork-Presbyterian Hospital/Weill Cornell Medical Center, which opened in July 2012, the first of its kind in the region. All Iris Cantor Health Centers embody Mrs. Cantor's vision, reflecting  the trend in healthcare that she was one of the first to espouse:  the gradual shift from detecting and responding to illness with medication and treatment, to a philosophy that encourages preventive measures and healthy lifestyles.
Also in New York, Mrs. Cantor has served on the Board of Trustees of New York-Presbyterian Hospital and as vice chairman of the Lying-In Hospital, home of the Iris and B. Gerald Cantor Ambulatory Surgery Center and the Iris and B. Gerald Cantor Laboratory for Immunological Research in Diabetes. Her 1996 donation to Weill Cornell Medical Center's Department of Obstetrics and Gynecology provided 11 birthing rooms, two operating rooms and a new waiting room. Mrs. Cantor has had a long association with the American Hospital in Paris, where she sponsored the Iris Cantor Women's Health Seminar and supported efforts to assist French and American doctors in sharing their knowledge and expertise.  A long-time supporter of Memorial Sloan-Kettering Cancer Center, she recently established its Winauer Chair in Gastroenterology.
Mrs. Cantor serves on the board of directors of the Discovery Eye Foundation in Los Angeles, where she established the Iris and B. Gerald Cantor Fellowship for Original Research. The Iris & B. Gerald Cantor Foundation Diabetic Eye Research Laboratory opened at UC Irvine in 2004. She has served on the Executive Board for Medical Sciences at UCLA. In New York, Mrs. Cantor has been on the Board of Trustees of the Strang Cancer Prevention Center. She also established the Iris and B. Gerald Cantor Clinical Research Laboratory at The Rogosin Institute, supporting its programs for research and treatment of kidney disease.
Accolades
Iris Cantor is the recipient of numerous honors and awards recognizing her advocacy and generous patronage of causes in the arts and medicine. These accolades include the following:
2015:   Honoree, New York-Presbyterian Annual Gala
2014:   Iris Foundation Award for outstanding patronage of the arts, Bard Graduate Center
2012:   Honorary Doctor of Fine Arts, Laguna College of Art+Design
2008:  Honoree, Tisch Gala 2008, Tisch School of the Arts, New York University
2008:  Named a "Woman of Achievement" by the Woman's Project, dedicated to producing and promoting theater created by women
2007:  Honored for her philanthropy by the Discovery Eye Foundation
2003:  Trustee of the Year, New York-Presbyterian Hospital
2003:  Honorary Doctor of Fine Arts, College of the Holy Cross
2002:  Award for Distinguished Service to the Visual Arts, from ArtTable Inc., national organizationof outstanding women in the visual arts
2001:  The UCLA Medal, the University's highest honor, bestowed upon those who have made "truly extraordinary and distinguished contributions to society, their    professions, higher education and to UCLA"
2000:  Chevalier in the French National Order of the Legion of Honor, for promoting women's healthcare and Rodin
1996:   Induction into the Sir Harold Acton Society of New York University; commemorative medal for her generous patronage of the Tisch School of the Arts
1996:   Winthrop Rockefeller Award presented in Little Rock, Arkansas, for contributions to the arts
1995:   National Medal of Arts (with B. Gerald Cantor), presented by President and Mrs. Clinton in recognition of outstanding patronage
1994:   California Governor's Award (with B. Gerald Cantor) for Individual Patrons of the Arts
1994:   Cavaliere Ufficiale in the Order of Merit, one of Italy's highest public-service honors
1993:   Encore Award for arts patronage (with B. Gerald Cantor) from the Arts and Business Council
1992:   Hugo N. Dixon Award (with B. Gerald Cantor) for excellence in the arts, from Dixon Gallery and Gardens, Memphis, Tennessee
1992:   Gertrude Vanderbilt Whitney Award (with B. Gerald Cantor) for Patronage of the Arts, from the Skowhegan School of Painting and Sculpture
1991:   Induction into the Order Francisco de Miranda by the President and Interior Minister of Venezuela, in recognition of her support for the exhibition Rodin and Balzac: The Story of a Sculpture, which was seen in Caracas
1991:   Honorary degree in Fine Arts, Pratt Institute, Brooklyn
1989:   Augustus Graham Medal (with B. Gerald Cantor) for exceptional support of the Brooklyn Museum of Art
Legacy and Leadership
Looking to the future, Mrs. Cantor says she is inspired by the positive results of her work, as well as by her commitment to honor Bernie Cantor's legacy. "It's an amazing sense of satisfaction to know you have helped not only individuals but humankind at large," she says. "You leave your mark on something – you hope it inspires others."
Under Mrs. Cantor's leadership, the Cantor Foundation remains true to its guiding principles and philosophy. The visual arts, the Foundation's traditional core, continue to be important, as reflected in programs to support exhibitions, arts education and related activities. In addition, healthcare and medical research are top priorities as Mrs. Cantor and the Foundation focus on addressing the paramount medical challenges facing society today.