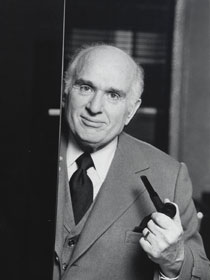 "The greatest satisfaction is that you're sharing the experience of art with others. The letters I get from people are very heart-warming, and it's a sense of accomplishment that I do it in my lifetime."
Innovator, achiever, benefactor, visionary:  B. Gerald Cantor was a modern-day Renaissance man whose diverse achievements left enduring imprints in the arenas of business, philanthropy and the visual arts.
Mr. Cantor launched his financial career at 18 and before his 30th birthday had established his own firm, Cantor Fitzgerald Inc., a securities brokerage that he nurtured into an industry leader with a global presence. Considered the father of screen brokerage, he revolutionized the trading of U.S. government securities.
In 1945, his visceral response to a sculpture by Auguste Rodin led to a lifelong fascination with the renowned French artist – Mr. Cantor's self-described "magnificent obsession." Over the course of several decades, he assembled what would be the largest collection of Rodin sculpture in private hands. The joy he took in collecting was eclipsed only by the pleasure he felt when sharing these masterworks with others.
Mr. Cantor and his wife, Iris, collaborated in organizing exhibitions, promoting scholarship on Rodin, and donating artworks to museums and universities around the world. Their philanthropic partnership also extended to the medical realm, benefiting research and treatment programs to address some of the most urgent healthcare challenges of our time.
Bernie Cantor's life is more than a success story – it illustrates what can be achieved when commitment, ingenuity and altruism come together in one extraordinary person.
Early Life
Bernard Gerald Cantor was born in the Bronx, New York, in 1916. "Bernie," as he was known by all, attended DeWitt Clinton High School, where he excelled at math. As a teenager, he sold peanuts, popcorn and hotdogs at Yankee Stadium to fans who came to watch the legendary Babe Ruth and Lou Gehrig. Demonstrating a precocious business instinct, the young entrepreneur worked only the doubleheaders, because "you sold more between games." Bernie entered New York University as a pre-law student, but the Depression economy was taking its toll and employment prospects were grim. Convinced that "if you can't make money, you'd better deal in money," he switched to business courses and found a job on Wall Street.
During World War II, Bernie served in the Army and was stationed in the South Pacific. Upon completing his military service in 1945, he founded his own securities and financial company, B.G. Cantor & Co.
Professional Achievements
B.G. Cantor & Co. evolved into the financial holding company Cantor Fitzgerald Inc., with offices in major American and world cities. Under Mr. Cantor's leadership, the company was responsible for several firsts in financial technology. In 1972 Cantor Fitzgerald originated screen brokerage (a computerized system for trading government bonds) in the United States; in 1983 it became the first corporation to offer worldwide screen brokerage in U.S. government securities.
As founder, president and chairman of the board of Cantor Fitzgerald, Mr. Cantor imbued his company with the personal philosophies that also guided his efforts as a businessman, philanthropist and patron of the arts. The Cantor Fitzgerald corporate logo featured an image of Rodin's iconic sculpture The Thinker – a reminder of the connections between business and the arts. Echoing Mr. Cantor's own example, many of his firm's senior executives held leadership positions on the boards of prominent art institutions.
From 1981 until 1986, Cantor Fitzgerald's World Trade Center corporate office was home also to the B.G. Cantor Sculpture Center, which housed some 100 Rodin sculptures as well as drawings, prints, photographs and other material relating to the sculptor's life and work. Occupying 4,000 square feet on the 105th floor of the World Trade Center, the gallery was designated in the Guinness Book of World Records as the "highest museum in the world." Eventually Mr. Cantor closed the Center, wanting instead to make his collection more accessible to the public through donations and exhibitions at larger venues.
"Rodin's Apostle"
In 1945, the same year he launched his business, Mr. Cantor took another momentous first step – into the world of art. Filling an hour between appointments, he paid an impromptu visit to The Metropolitan Museum of Art. Of the many works he saw that day, only one truly captured his attention: The Hand of God by Auguste Rodin. The marble sculpture of a hand pulling two human figures from the undifferentiated mass – the moment of Creation – was a revelation for Mr. Cantor. "I'd never seen anything that fascinated me so much," he later said. "It was almost a religious experience."
Eighteen months later, in 1947, Mr. Cantor saw a small bronze version of The Hand of God in a Madison Avenue gallery. At nearly $100, the purchase set him back the equivalent of two months' rent on his Manhattan apartment. He bought it, and throughout Mr. Cantor's life the five-and-a-half-inch-tall bronze was a vivid reminder of the excitement conveyed by its marble compatriot.
Mr. Cantor's purchase of The Kiss in the mid-1950s and his initial visit to the Musée Rodin in Paris at the end of that decade marked the start of his serious collecting. After their marriage in 1977, he and his wife, Iris, gradually assembled the world's largest and most comprehensive private collection of works by and relating to the 19th century French sculptor – approximately 750 large- and small-scale sculptures, prints, drawings, photographs and memorabilia. To complement these materials, they added paintings and sculpture by artists from the Impressionist, Post-Impressionist and Expressionist schools, many of whom were either contemporaries of Rodin or were influenced by him.
Guided by Stanford University Professor Albert E. Elsen, the foremost American Rodin scholar, Mr. Cantor also read extensively on Rodin and became one of the world's leading amateur authorities on the sculptor and his life. His immersion into the artist's world was so complete that he earned the appellation "Rodin's Apostle."
Mr. Cantor gleaned  knowledge during his frequent visits to the Musée Rodin, which houses the largest single assemblage of the sculptor's works. He was instrumental in encouraging the museum to open its archives to greater use by scholars and researchers. In addition, he spearheaded a number of changes to the processes and procedures of modern-day casting, including a new system for numbering and greater quality control. In 1973, in tribute to his dedication to furthering Rodin scholarship, the Musée's board of directors presented Mr. Cantor with an original plaster of The Hand of God — an extraordinary gift.
From Musée Rodin curator Cecile Goldscheider Mr. Cantor learned that Rodin had made provision for his original plaster models  to be cast in bronze after his death. Over time the Cantors commissioned the Musée to cast a number of pieces, including Rodin's monumental work The Gates of Hell.
The Gates – which included The Thinker, Fugitive Love, The Three Shades and other individual pieces of sculpture – had been cast in bronze before, but had never been cast using the "lost-wax" method favored by Rodin because of the level of detail it allowed. Now part of the permanent collection at Stanford University's Iris and B. Gerald Cantor Center for Visual Arts, this finished cast stands 21 feet high and weighs nine tons. The four-year casting process was chronicled in an award-winning documentary co-produced by Iris Cantor.
While Mr. Cantor derived personal satisfaction from collecting, from the start he also had "a real desire to see other people share the same pleasure" – a sentiment that is echoed by his wife. The Cantors undertook a program to make their collection accessible to the public through traveling exhibitions, loans and gifts. Those efforts were formalized with the establishment of the Iris & B. Gerald Cantor Foundation in 1978.
The Cantors have donated hundreds of works to dozens of cultural and educational institutions around the world. In addition, they have endowed museum galleries and sculpture gardens, funded research on Rodin and cultural history, and underwritten many landmark exhibitions – furthering knowledge about the artist and enabling countless museum-goers to experience Rodin for the first time. Often reflecting personal connections to the recipient institutions, these efforts placed the Cantors among the world's most generous arts benefactors.
The following is a small sampling of the Cantors' philanthropic legacy in the arts:
The Metropolitan Museum of Art
B. Gerald Cantor Sculpture Galleries
Iris and B. Gerald Cantor Exhibition Hall
Iris and B. Gerald Cantor Roof Garden
Iris and B. Gerald Cantor Galleries for Nineteenth-Century Sculpture and Decorative Arts
The Brooklyn Museum
Iris and B Gerald Cantor Gallery
Iris and B. Gerald Cantor Auditorium
Los Angeles County Museum of Art
Iris and B. Gerald Cantor Plaza
B. Gerald Cantor Sculpture Garden
Iris and B. Gerald Cantor Gallery
Stanford University 
Iris and B. Gerald Cantor Center for the Visual Arts
B. Gerald Cantor Rodin Sculpture Garden
Rodin Research Fund (Cantor Fellows)
College of the Holy Cross 
Iris and B. Gerald Cantor Art Gallery
The Cantors' philanthropy has not been directed solely to cultural institutions. Through the Cantor Foundation, they also have provided major support to programs in healthcare and biomedical research, often targeting challenges that touched their lives directly.
Mr. Cantor's expertise was highly valued, and he gave of his time to serve on boards in the arts and higher education. He was a trustee and trustee emeritus of The Metropolitan Museum of Art; a trustee and honorary life trustee of the Los Angeles County Museum of Art; and a member of the Business Committee for the Arts. He served as a regent of the President's Council at the College of the Holy Cross, and on the President's Council of Hebrew University.
An ardent basketball fan,  in the early 1980sMr. Cantor was an owner of the NBA's Kansas City Kings (now the Sacramento Kings).
Accolades
Mr. Cantor's generous patronage was honored by national governments, museums and universities. Among numerous such accolades are the following:
Legacy
Whether in business, art collecting or philanthropy, B. Gerald Cantor was an original thinker who created bold new models and followed his own path. No benefactor in recent times has done more to acquaint the public with the power and beauty of sculpture or to stimulate scholarship on Auguste Rodin. Today, under Iris Cantor's direction, the Cantor Foundation protects and extends Bernie Cantor's legacy in the arts as well as in medicine.
Known around the world by arts enthusiasts and scholars, by patients and medical scientists, and by the financial, education and philanthropy communities, the Cantor name endures as a symbol of generosity, success, inspiration and hope.